Sunshine State Conference Tournament This Week at Rick Case Arena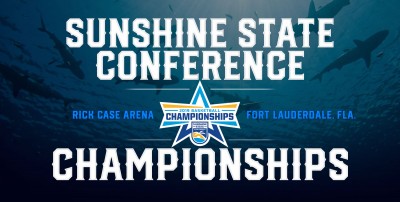 With both Nova Southeastern men's and women's basketball teams earning their position among the top four teams in the Sunshine State Conference, league championship tournament action will kick off in Rick Case Arena on Wednesday, March 6. In conference quarterfinal action on Wednesday, the Sharks women will host the Embry-Riddle Eagles at 5:30 p.m., while the men will face the Tampa Spartans at 7:30 p.m.
Nova Southeastern will also serve as the host site for the semifinal and final rounds of the Sunshine State Conference Men's and Women's Basketball Championships, March 9-10 at Rick Case Arena. Nova Southeastern faculty and staff will be admitted to the semifinal and final games at no cost.
For the 15th consecutive year, NSU women's basketball will head into the Sunshine State Conference Tournament. With a 17-10 overall record and 13-7 conference mark, the Sharks have grabbed the No. 4 seed. On the opposite bench at the No. 5 seed, the Eagles finished the regular season at 17-10 as well, with a 12-8 record against league opponents. This is the second year in a row the Sharks and the Eagles will square off in the SSC quarterfinal, as well as their second postseason matchup all-time – as ERAU's first SSC eligible year was 2017-18. This season, the Sharks and the Eagles sparred twice, splitting the series. On Dec. 1, NSU kicked off road-SSC play against Embry-Riddle, falling in Daytona Beach, 64-55, to the then-22nd ranked Eagles. Hosting Embry-Riddle on Jan. 26, the Sharks cruised to an 82-61 victory.
The Sharks are paced by starting guard Alison Hughes, who averages 13.8 points per game after eight consecutive double-digit scoring outings and shoots an SSC-high 44.5 percent from deep. Christen Prasse follows Hughes with 12.1 points per game, and leads NSU in rebounds (7.8) and assists (6.4) per game, notching a program-record three triple-doubles as only the second player in NCAA history to do so. The winner of Wednesday's quarterfinal will advance to play either Florida Southern or Barry this Saturday in the semifinal round at 12:00 p.m.