FCE Hosts Child Protection Conference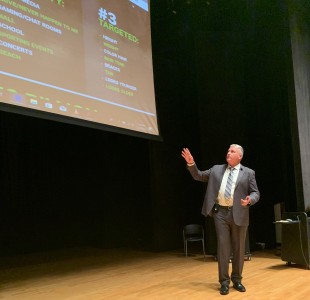 NSU's Abraham S. Fischler College of Education (FCE), School of Criminal Justice hosted The Child Protection Conference: Building Resilience in Changing Times on Friday, February 22nd. The college welcomed attendees from various areas including, Child Protection Services, Law Enforcement and School Counselors to NSU's Don Taft university Center Performance Theater for an informative and insightful day featuring an array of experts.
Ronald Book, Chairman of the Lauren's Kids Foundation, served as the keynote speaker, and was introduced by his daughter, Senator Lauren Book. Additionally, the conference featured a special presentation from Assistant Professor Grace Telesco, Ph.D., and NSU's sociodrama club. Other speakers included Co-Commander of the South Florida Internet Crimes Against Children, Sgt. Thomas McInerney, and Tony Sparks, a retired military patriot and co-founder of the nonprofit, Phantom Rescue.
For questions or more information on the conference, please contact Denise Crammer at crammerd@nova.edu