Fischler College of Education Hosts Take Your Child to Work Day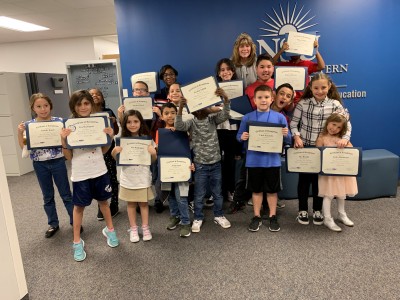 The Abraham S. Fischler College of Education (FCE), and the School of Criminal Justice, hosted a day of fun filled activities on Friday, February 2, as part of the annual "Take Your Child to Work" day.
In the morning, the children received a special talk on drones from FCE Professor, Michael Simonson, Ph.D. and visited the Alvin Sherman Library for its program, Build It! Make It! Play It!. After lunch, the children participated in a "Turtle Talk" from NSU's Marine Environmental Education Center and a received visit from the Broward Sheriff's Office Crime Scene Van, where children had the opportunity to learn about fingerprinting and gathering crucial evidence after a crime happens.
Each child in attendance was awarded a certificate in celebration of this special day.