Fischler College of Education Raises More than 3k for the Broward Heart Walk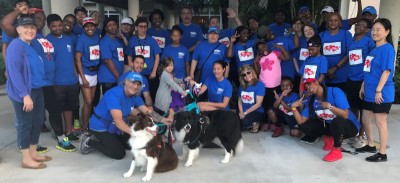 NSU's Abraham S. Fischler College of Education, School of Criminal Justice team, One Beat One Sound, raised more than $3,000 for this year's Broward Heart Walk.
FCE Team Co-Captains, Mona Lee Hutton and Tanisha Robinson, hosted a variety of events over the past month to raise funds. The events included dollars for dress down days, purchasing hearts to be hung in the halls, a raffle, and FCE's Heart's Behind Bars, where the faculty and staff paid to have administrators and supervisors "locked up." "Bail" was raised by the detainees asking for bail money from fellow colleagues, family and friends. Additionally, FCE's Puerto Rico team hosted and participated in a variety of events, including a Zumbathon to raise funds for the Broward Heart Walk.